Monday, September 10th, 2007
An Open Letter to the Contrarian Community from J.L. Schonwald:
Late last month, I received a telex from our most regular CT contributor, The Urbanologist, aka Max Grinnell, sometimes known as Karl M. Grinne. The reason for Grinnell's urgency: he wanted to write a story, he said, about his upcoming trip to a college football game.
I say to young Grinnell. Que? Quel? WTF?
The CT is not ESPN, or Fox Sports. The CT, if anything, has a very clear editorial mission. We do not cover Big Ten, ACC, or SEC sports. We don't care about the MLB, or the NFL, or David Beckham or Thierry Henry or anything. We're passionately indifferent when it comes to sports, politics, and god. So, in brief, I was deeply skeptical of Young Grinnell's idea.

But being that Grinnell is such plucky kid, being that he is our most reliable contributor, being that he is, in fact, in addition to S. Lael Powell-Rushing, our most valuable brand, I decide to give him a shot. 450 words of prime CT real estate.
What follows is a CT Experiment…
The Urbanologist makes his case for how a trip to a college football game can be a contrarian travel experience.

The Urbanologist: Zen and the Art of Northwestern Football
By Max Grinnell
Making a pilgrimage to any sporting event whatsoever in the so-called "developed" world is far from contrarian (Don't count out cock-fighting in Bali, alright?).
Come on now….whether it's going to see Christians being tossed to the lions in the Coliseum or just drinking an entire flask of Christian Brothers brandy while driving to a Detroit Lions game, it's all been done. With that in mind, I recently set off to find a college football game in my neck of the Midwest that might have at least a contrarian veneer, if not an entirely luscious contrarian center. I was able to find such a contest in the leafy, liberal-lined town of Evanston. The contest? Northwestern versus Northeastern, in a pigskin battle I would later dub "The Showdown of Ordinal Directions"
September 1, 2007: I began the morning by preparing my battle uniform and reviewing my materials. I slipped on my "Worcester: Paris of the '80s" t-shirt in the off-chance anyone from Worcester, Mass. might have come out to Ryan Field to support the Northeastern Huskies squad. Probably not, but it seemed to be worth a try. I felt sweaty, and it wasn't just the fact that I lived in a three-story walkup with a very modest A/C system. Was this contrarian enough? Did either of these teams have any 'name' players? Nope. Was this an established rivalry in the annals of college match-ups? God no. Had there been an exchange of regional gifts between the respective college presidents of N'Western and N'Eastern? Naw, probably not even an e-card. I was ready.
9:20AM. Got on the Red Line to make the 10.2 mile journey to Ryan Field, home of the Northwestern Wildcats. I had to dodge a few bullets along the way, as the Second City was full of some dreadfully noncontrarian sporting events around town: Iowa v. Northern Illinois game at Soldier Field, Cubs game in Wrigleyville, and a slew of recent Big Ten grads making their way to various bars to watch the "Big Game". Fortunately, this was just a brief distraction, as the northbound train was pretty empty.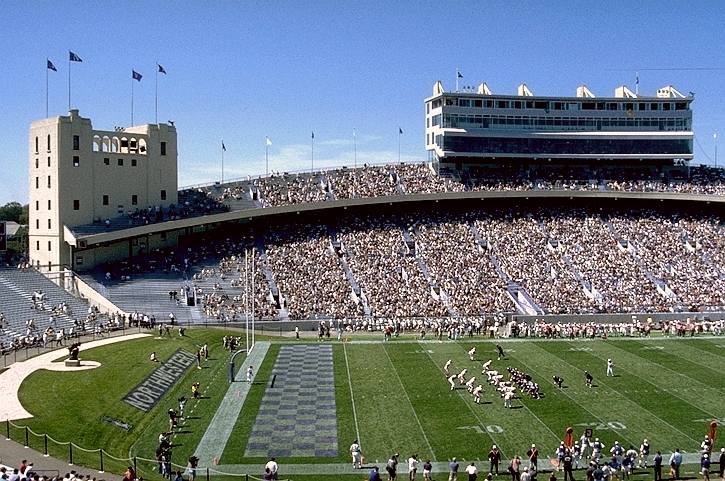 10:10AM: Pulled up to the Central Avenue El station in Evanston. If you never been on the train up to this leafy burb, I recommend it highly. T'aint much different that back when the line came into existence about a hundred years ago. Through Chicago's North Side, you pass hundreds of walk-up apartment buildings, dozens of crappy strip malls which replaced other apartment buildings, and periodic outbursts of residential opulence. Once you get to Evanston, you see what the people who built this hunk of 19th century infrastructure would be delighted to see still exists, namely an escape from the burgeoning, sweaty, smelly city that was Chicago.
10:20AM Walking down Central Avenue to Ryan Field, I notice the first of many differences from my numerous ventures to one Camp Randall Stadium, home of the Wisconsin Badgers football team. First of all, almost no one going to the game is drunk. As I peer closer into the whites of some passerby's eyes, I don't even see a touch of red. No hangovers? Is this the Big Ten before me? No way, says I. People are laughing, and there are lots of kids. I survey the kids as well. None of them are drunk either. It's a long way, both in terms of spirit and spirits, from a garden-variety college football contest.
10:45AM. Didn't buy a ticket beforehand, and as I get up to the ticket counter, I almost think I've seen a mirage. Behind a man dressed in a white polo with the Northwestern "action" wildcat on the breast pocket sits a pile of tickets two feet high. Are these for an upcoming field hockey match? Water calisthenics meet? Nope, they are all for this mighty game. Before I step onto the field, I notice one other thing. The parking lots around Ryan Field aren't full. Not even half-full, as a matter of fact. There are a number of S-Class Mercedes, some classy SUV's, and other new model cars with fancy picnic baskets and lawn chairs parked right in back of each one. More polo shirts, some bottles of Cabernet Sauvignon, a selection of cheeses (no cheese logs), and other tidbits that wouldn't be out of place at a get-together at William F. Buckley's manse. And I thought I had seen it all when I tailgated at a Boston College game. Well, there was plenty more to follow.
Next up: The Call of the Wild(cats)
Leave a Reply
You must be logged in to post a comment.