Tuesday, July 3rd, 2007
Lacy Rushwell to Join CT? Yes!

Rumors have been circulating for months. AND finally, we're pleased to confirm them.
Lacy Rushwell, who has written a series of popular guidebooks for transgendered travellers, will join the Contrarian Traveller as Senior Editor of Feminist and Trangendered travel and Ohio Valley content.

Lacy will of course contribute regular columns, and human-interest features, on her specialty — the architecture, flora, fauna, food, and art of the Ohio Valley. The author of "The Secret Gardens of Louisville", Rushwell will be based in our Louisville office.
But clearly the acquisition of Rushwell was about far more than the Ohio Valley.
Rushwell is, after all, the author of the yet-to-be published "A Lesbian Traveller's Guide to the Maghreb." An expert in transgender travel, Rushwell, with her counterpart, Rob Jordan, will give the CT an unusual wealth of knowledge.
Said Alpha Contrarian Schonwald. "We have one of the most enterprising metrosexual travellers, and now we gain a savvy feminist traveller like Rushwell? Fuggedaboutit. No site can compete"
Prior to coming to the CT, Rushwell served for more than two decades as a contributing editor to several Ohio Valley zines, including SkateRat Louisville, Cincinnati Swish, and Evansville Punk. She has also written for Heeb and the Utne Reader.
Lael Powell-Rushing
The CT is thrilled to welcome our newest editor, Oregon-based Lael Powell-Rushing. Lael, sometimes known as the Kid, or "Scott," or Scotty P, is a veteran adventure traveller, and one of the world's foremost experts on extreme car camping.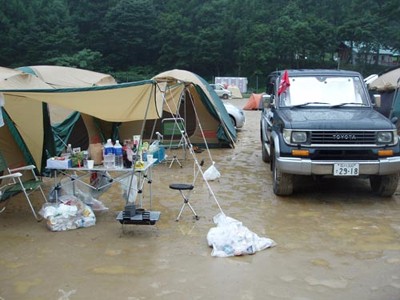 The son of an East German mother, and a father, believed to be of Mongolian-Jewish parentage, Powell-Rushing is a former athlete. Growing up in one of the most effete regions of North America, Coastal Connecticut, Lael was a friend of a friend of future Hall of Famer Jeff Bagwell. After several promising years as a second base man in the Killingworth Little League, Powell-Rushing turned to tennis. He played one singles at the Williams School in New London. At Macalester College in St. Paul, Minnesota, Powell-Rushing distinguished himself as the team's number eight singles player during the spring of 1989. But after a meteoric rise, which included surprise victories over Augsburg and Northwestern Bible College and a chance to play doubles for the team during its annual Spring Break trip to Panama City, Florida, Powell-Rushing put down his racquet.
While Powell-Rushing has repeatedly refused comment on his dismissal from the team, most analysts believe that Powell-Rushing, like several members of the Macalester team, was suspected of blood doping. The tumult of the incident, dubbed "The Black Soles Scandal" by Star-Tribune reporter Corky Swenson, was, however, a positive turning point for the former tennis player. In October of 1993, just two years after quitting competive tennis, in what is believed to be the most important moment in the history of Extreme Car Camping, Powell-Rushing drove north to St. Croix Falls with several current and former Macalester students in his Ford Escort. It was a joyous day for Powell-Rushing. Not only did he, on that night, discover his gift for car camping, the Macalester team was also acquitted of all charges in the Black Soles scandal.
Powell-Rushing formally retired from competitive athletics in 1993, and turned his attention to amateur Ultimate frisbee, landscape ecology, geographical information systems, and car camping.
The author of the award-winning Car Camping Connecticut, and Extreme Car Camping Connecticut, Lael hopes to bring his car camping prowess to CT readers.
"Let's face it, the guy has been everywhere, and he knows everything about adventure car camping," said Mark Edwards, former editor of Outside. "He's taken it to the next level."
Added Edwards, "Lael has gone to places with a '92 Escort that most people couldn't get to with a '07 Hummer. Seriously."
The CT is excited to have this retired athlete, and car camping pioneer, as our West Coast and Car Camping editor.
In his new role, Lael will focus on his specialty (car camping technique, and trunk packing) as well as on obscure destinations in non-Willamette Valley, Oregon and non-GYE (Greater Yellowstone Ecosytem), Wyoming and Montana, and non-coastal Connecticut. His new column titled "Non" will appear next Fall.
Welkommen, Lael!
2 Responses to "Lacy Rushwell Joins CT, Powell-Rushing Named West Coast, Extreme Car Camping Editor"
Josh Says:
July 3rd, 2007 at 4:54 pm

So happy to have you Lael! We love your work!

Josh Says:
July 3rd, 2007 at 4:56 pm

Lael — I'm travelling to Burns, OR in November for three days. Do you have any reccos on restaurants or lodging?

Thanx so much!

We live in Couer d' Alene - -and we love your work!

Minnie Esposito

P.s. Go Zags!
Leave a Reply
You must be logged in to post a comment.